Happy Grains
3 Main Products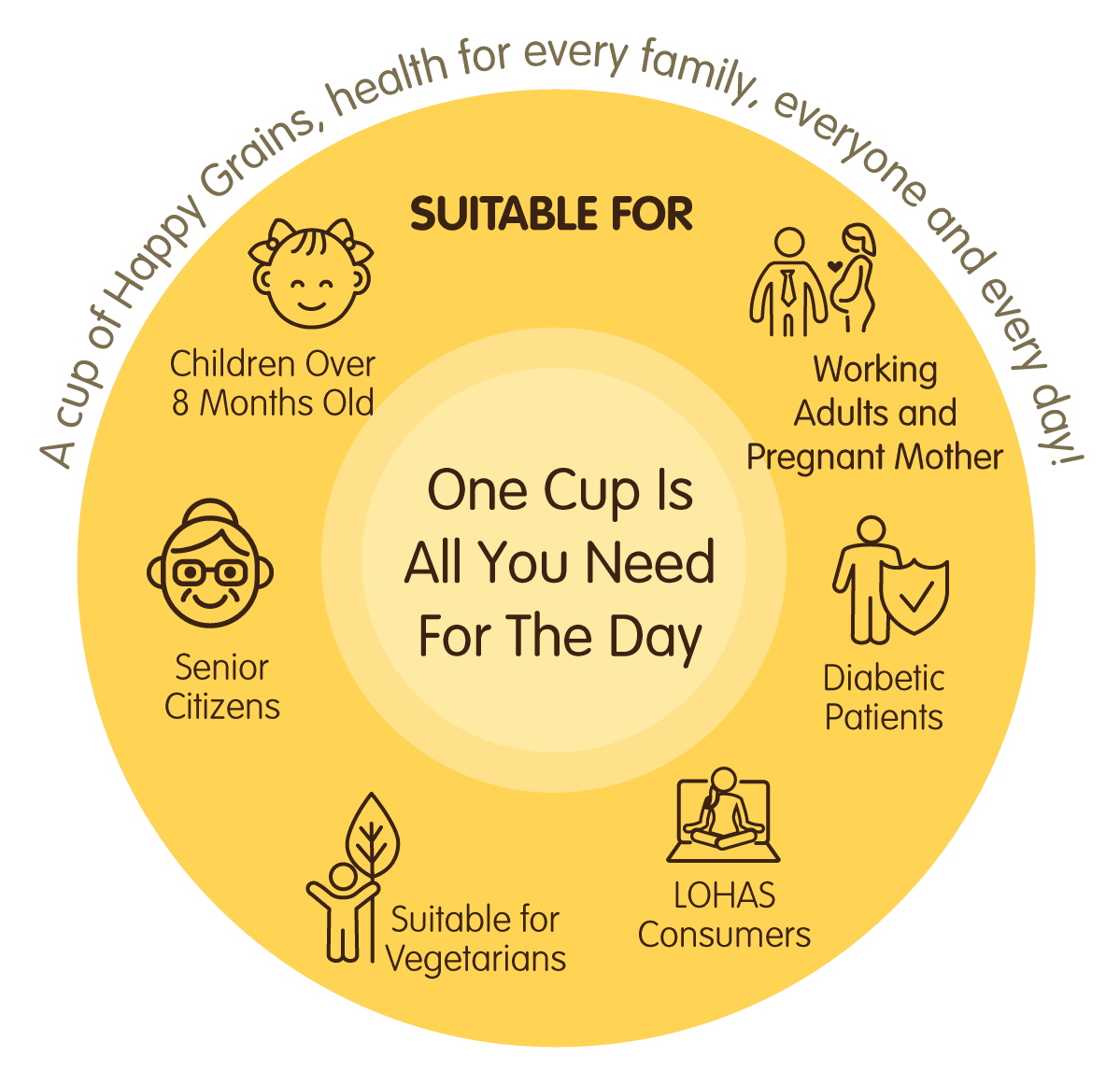 GIFT OF HAPPINESS
or Friends and Family
INTRODUCING HAPPY GRAINS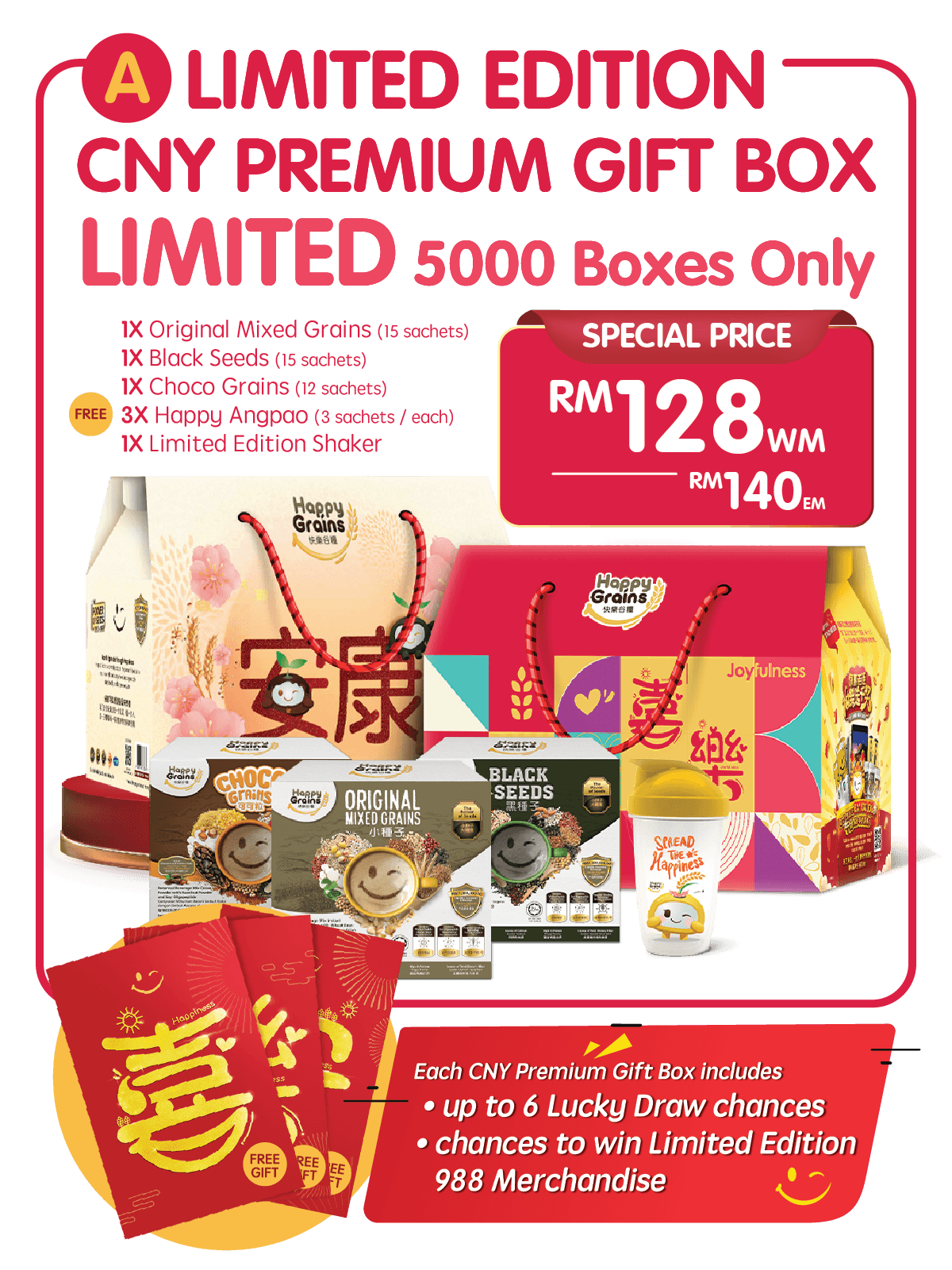 ---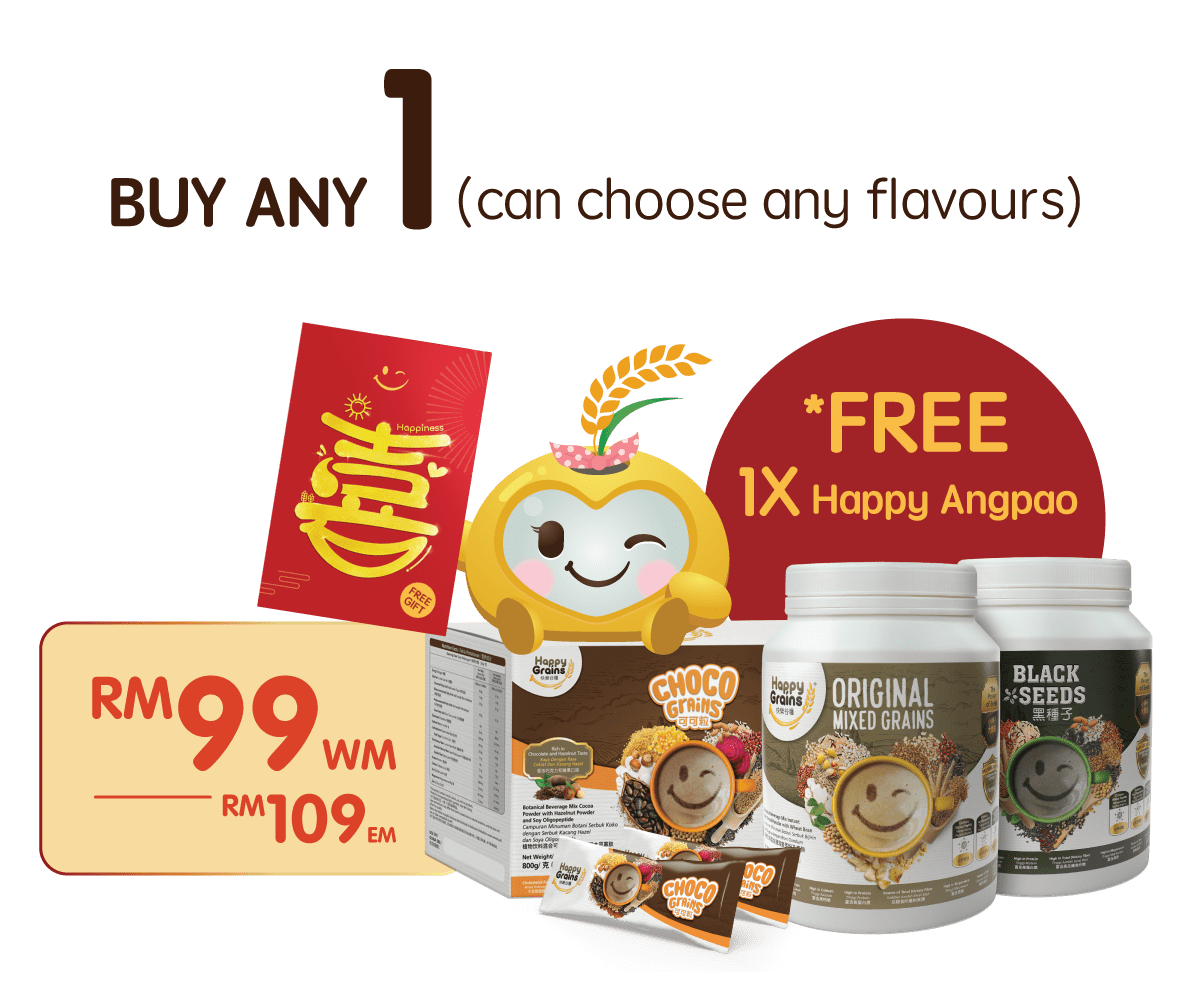 CHOICE OF FLAVOR & PACKAGING
Original Mixed Grains 小种子 [1.2kg / 40 Sachets];
Black Seeds 黑种子 [1kg / 40 Sachets];
Choco Grains 可可粒 [32 Sachets]
Delivery fees apply if buy 1 tub only
---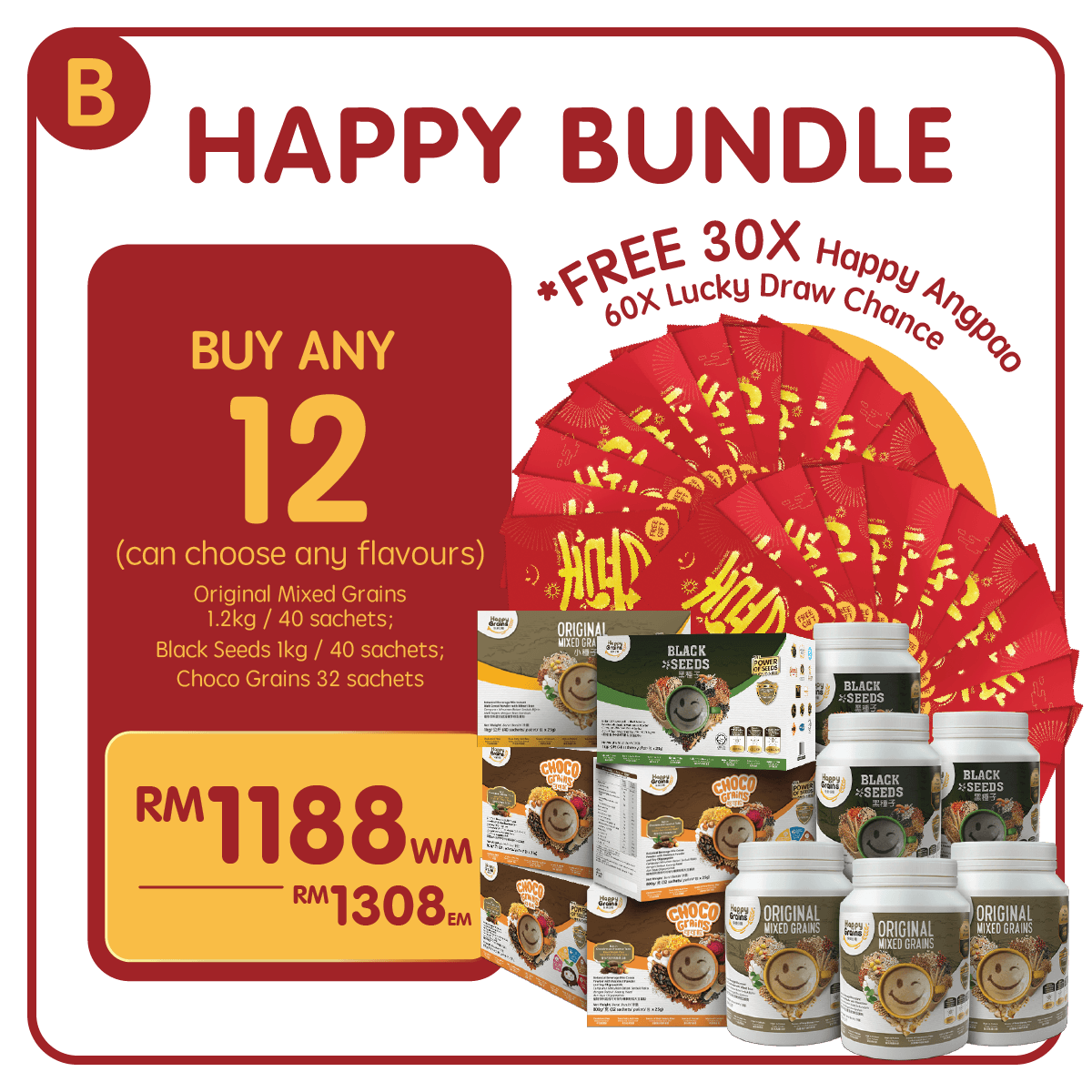 CHOICE OF FLAVOR & PACKAGING
Original Mixed Grains 小种子 [1.2kg / 40 Sachets];
Black Seeds 黑种子 [1kg / 40 Sachets];
Choco Grains 可可粒 [32 Sachets]
---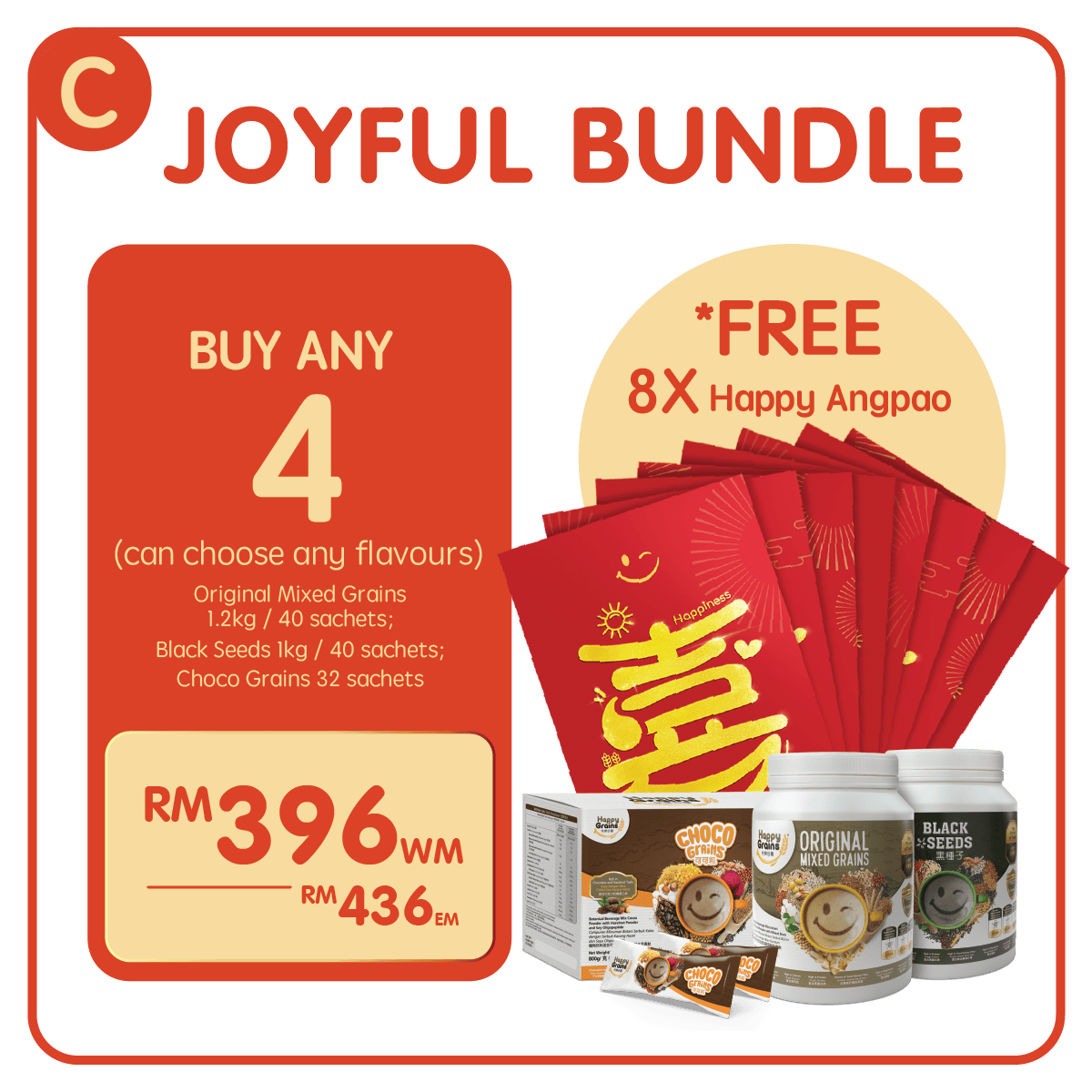 CHOICE OF FLAVOR & PACKAGING
Original Mixed Grains 小种子 [1.2kg / 40 Sachets];
Black Seeds 黑种子 [1kg / 40 Sachets];
Choco Grains 可可粒 [32 Sachets]
---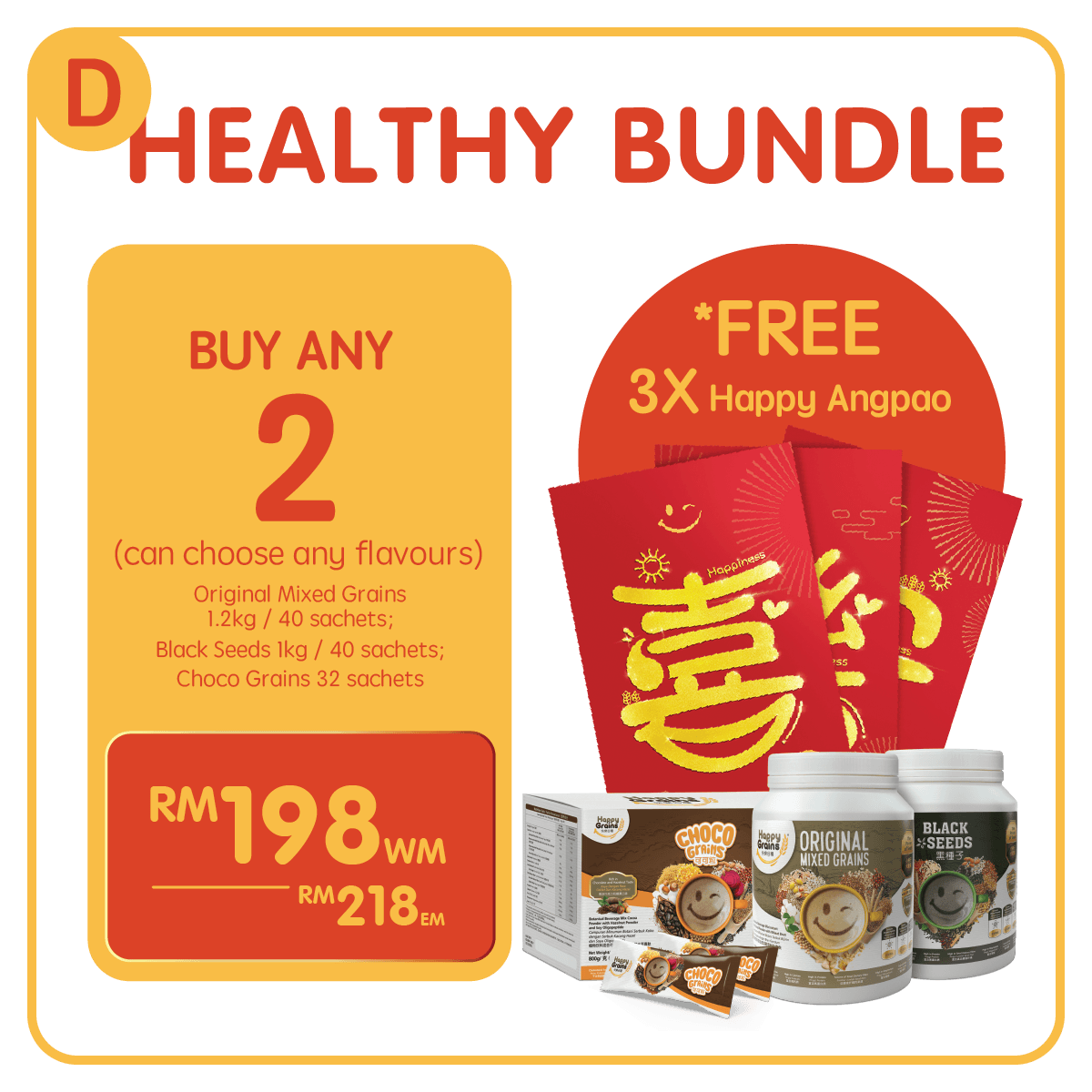 CHOICE OF FLAVOR & PACKAGING
Original Mixed Grains 小种子 [1.2kg / 40 Sachets];
Black Seeds 黑种子 [1kg / 40 Sachets];
Choco Grains 可可粒 [32 Sachets]
---
*Since the launch in 2015,
we have reached over 2,000,000 happy fans!*












Happy Grains FAQ
1. Is Happy Grains suitable for people with uric acid problems?
Whole Grains for Happy Grains only contain plant protein. Studies have shown that eating plant-based proteins such as beans does not cause uric acid or gout.
2. Are Happy Grains suitable for people with diabetes?
Yes, Happy Grains is suitable for people with diabetes as it has no added sugar. Happy Grains uses Stevia which is derived from the natural Stevia Leaf, hence drinking Happy Grains won't have any effect on the blood sugar. In addition, the dietary fiber in Happy Grains can provide satiety and delay the absorption and rise of blood sugar.
3. If I have constipation can I drink Happy Grains? Do Happy Grains cause constipation after drinking Happy Grains?
Happy Grains make use of the world-leading Patentened Superfine Grinding Technology that helps support the digestive system. For those suffering from constipation, each cup of Happy Grains is rich in dietary fibre that helps aid the digestive system and avoid any heatiness.
4. How does Happy Grains taste and does it have bland oat drinks taste?
Happy Grains uses Patented Superfine Grinding Technology that offers a smooth feel and a delicious taste. It also has a nice aroma and a naturally sweet taste. Packed with 6 Types of Essential Nutrients that Human Body Needs, Happy Grains is a wholesome filling and satisfying beverage.
5. Who can consume Happy Grains?
It is recommended to drink Happy Grains for children over 18 months to provide important nutrients that children need when they grow up to help increase children's resistance and brain function and memory.
6. Can pregnant women and nursing mothers drink Happy Grains?
HappyGrains can provide important nutrients for pregnant women or breastfeeding in time. In addition, the dietary fiber in Happy Grains provides satiety and prevents blood sugar levels from skyrocketing.
7. Can vegetarians take Happy Grains?
Yes, Happy Grains does not contain milk and is suitable for vegetarians.
8. Is it safe to buy Happy Grains online?
Yes, you can buy with confidence. Our online shopping system is 100% secure. Your order can be tracked through our system. If you have special notes, you can contact us at our Facebook customer service/WhatsApp.
9. When does your company ship the goods? When can I place an order?
From Monday to Friday, we will send all the products before 1pm, and all orders after 1pm will be sent on the next working day. After 1pm on Friday, Saturday and Sunday items will be shipped on Monday.
The order service is 24 hours a day and can be placed daily. After placing the order, our staff will contact you on working days.